Author: Alison Gieschen
Part of the allure of heading out to sea, is the exposure to adventures and sights that will be subject material for future books and blogs.  I have many ideas about books I would like to write.  I'm quite sure that the string of adventures we will have, will make some excellent stories on their own. Currently, I have published three books.
Blue Ridge
The first novel I wrote was inspired by my childhood, growing up near the Blue Ridge Mountains.  Their beauty and mystery spawned the idea to create a character that resided in those mountains.  Her adventures, battles and love affairs all take place within the towns and landscapes of the Blue Ridge Mountains.  The book is available on Amazon, Barnes and Nobles or through the publisher, iUniverse. "Blue Ridge" was awarded the Rising Star Award by iUniverse, as being an outstanding story.
Growing up in the heart of the Blue Ridge Mountains, Laura Atwood endured terrifying abuse at the hands of her alcoholic father. Too many times she felt the brunt of his anger, and at the age of sixteen she ran away, determined to try and make a decent life for herself. Even so, the ghosts of the past aren't so easily shaken. Laura meets and marries Jim McBane, a wealthy and successful businessman who sets her up in style. She lives in a ritzy townhouse, drives a BMW, and loves her role as his elegant, beautiful wife. But the modern fairy tale has a dark underbelly. Jim's overbearing nature begins to tarnish the golden dream Laura has built; even worse, when his criminal business dealings put her in danger, she narrowly escapes with her life. Starting over again isn't what she wants, but she has no choice. Laura moves in with her aunt Gracie and begins to rebuild her life. Living in the Blue Ridge Mountains again, though, means her ghosts insist on being confronted. Each day brings a new struggle. But when love turns up again in the form of a kind country veterinarian, Laura finds she must finally face her past, even if it will be her undoing.
Julia's Vaulting Dream
The second book I published is a children's book about the sport of equestrian vaulting.  My experience includes 20 years of coaching vaulting, having lead our team to compete both nationally and internationally.  Our team has won at the national level in individual and team vaulting.  This book was written to bring knowledge about the little-known sport of equestrian vaulting. My goal is to educate young people about the wonderful attributes of this equestrian activity. Julia's Vaulting Dream is available on Amazon or from the publisher, Create Space.
Nine-year-old Julia has a reoccurring dream where she's standing on the back of a cantering horse with her arms up in the air. When she tells her mother about this dream, she's pleasantly surprised to learn that her dream isn't a far fetched fantasy but, rather, is based on something very real that she saw when she was a baby.
Julia's mother explains that what she saw in her dream is known as equestrian vaulting. It is a competitive sport celebrated all over the world, and Julia had attended such a competition when she was just two years old.
Fascinated with the images that stuck with her for so long, Julia makes up her mind to learn more about the sport and decides that she wants to compete, no matter what. But there are numerous obstacles that stand in her way. With nothing more than a faint memory guiding her way, can this little girl turn her dream into a reality?
A story of desire, resolve, and unyielding commitment to one's dreams, Julia's Vaulting Dream is a compelling tome that will not only educate young readers on the elements of an unconventional sport but will also inspire them to follow their own dreams.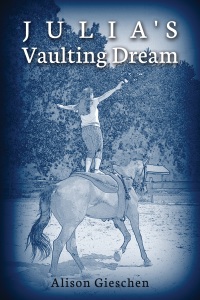 Heart of a Champion
My third novel, Heart of a Champion, is a nonfiction book about the amazing life of one of our vaulting horses. This horse was involved in a horrible accident and had to be rescued in the dead of winter, with very little chance of surviving the ordeal. Due to the incredible efforts of many people, the horse did in fact survive, and went on to carry several national vaulting champions.  The book is not just about his rescue, but is intertwined with stories about the many lives this horse impacted over his career.  His story is truly inspirational and heartwarming.  This horse and his story was featured on two Animal Planet episodes and he has been on many news shows such as Good Day Philadelphia, Fox News, Don Pollack's World, just to name a few. Heart of a Champion is available on Amazon or from Dog Ear Publishing.
Janyck, a gentle giant, was the Christmas miracle for a group of equestrian vaulters looking for the perfect horse to help them win a national title. After winning the hearts of everyone who met him, Janyck plunged through the surface of an ice-covered lake. Dozens of rescue workers could not pull his 2,000 pound ice-covered body from the icy grip of the lake. Meanwhile, a second disaster loomed on the horizon. Having profoundly touched the lives of so many people, an entire nation prayed as only a miracle could save Janyck from the clutches of impending death.