The Skipper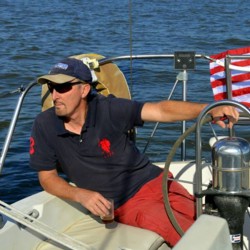 Daniel Gieschen, the son of a sailor and Lutheran minister, was born in the state of Oklahoma. After a brief stint in Kansas, his family relocated to Audubon, Pennsylvania where Dan grew up. His father had a passion for sailing and bought a small cruiser/racer and docked it on the Chesapeake Bay.  Dan, his older brother Mike and younger sister Deanna, spent almost every weekend during the summer exploring the Chesapeake with their parents.
Attending the United States Merchant Marine Academy in Kings Point, NY, Dan joined the sailing team.  His competitive drive and ability for speed were an asset to the dinghy team and during his college years, Dan won two national championships and graduated with dual majors earning a B.S in both Marine Engineering and Marine Transportation.  This training included spending time aboard U.S. merchant vessels, which took him across both the Atlantic and Pacific to ports around the globe.
Upon graduation, Dan was hired by the government and took a position as a mechanical engineer at the Philadelphia Naval Shipyard. Dan continued dingy racing where he won another national championship and, of course, spent time sailing on the Chesapeake in his family boat and perfecting his windsurfing skills. Then, one fateful day, Dan's co-worker, Greg, encouraged Dan to make a trip to North Carolina to be a ringer in a sailboat race.  It just so happened, Greg's Aunt Gerry was the captain of the sailboat and she had a lovely daughter named Alison. The rest, shall we say, is history.
 First Mate Alison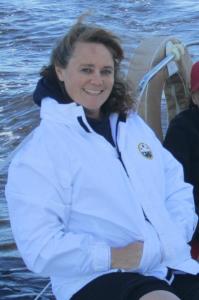 Alison Lancto grew up in the Hudson Valley, on a small farm nestled beneath the shadows of the Catskill Mountains, in upstate New York.  Growing up on a hundred-acre farm meant lots of work raising various animals, gardening, and horseback riding.  It was a magical way to spend a childhood.  The farm-life was diverse but didn't offer much opportunity to learn about sailing, until, Alison's parents befriended neighbors whose passion was sailing.  Alison's first taste of sailing was a combined family vacation to the Virgin Islands, where the two families chartered a sailboat and explored the islands.  The vacation was such fun, and such a success, the trip became an annual event.
Alison was the youngest of 6 children, and the last bit of help her parents had in managing the large farm. Donald, Alison's father, was given an opportunity to transfer to Charlotte, North Carolina through his company, IBM.  Donald and many of the people he worked with sold their homes and made the trek south.  This included our sailing neighbor, Carl Knight ( a world champion Sunfish sailor), who also worked at IBM.  Donald sold the farm and most of the animals but kept a few horses, sheep and chickens to transplant to the farmette located in the suburbs of Charlotte. As luck would have it, our sailing neighbor Carl, built a house on Lake Norman, a large lake just outside of Charlotte, which allowed him to re-submerge into the sailing community.
Alison was devastated by the move and by having to leave the farm she grew up on but immersed herself in competitive riding. She spent her high school years eventing and qualified for the screening trials for the Junior Olympic Equestrian Team.  A broken stirrup leather over the cross country course dashed her dreams of qualifying, so Alison began looking for new hobbies.  As she graduated from high school and entered college, she crewed at every opportunity on Carl's sailboat in Lake Norman regattas. Being a former world champion sailor, Carl was a great teacher.  He was meticulous in handling his boat, relentless in his competitiveness, and his boat was rarely beaten in any race.
After 44 years of working at IBM, Donald finally retired, and he and his wife Gerry moved to the coastline of North Carolina to a small town called New Bern.   Gerry, having grown up on an island in Bar Harbor, was quite familiar with the ocean and decided to take up competitive sailing.  Her goal was to be the best woman captain on the Neuse River.  Being she was the only female captain in the regattas on the Neuse River, this was not a difficult task, so she raised her sights to be the fastest sailboat, period.  Alison, who was attending college at the University of North Carolina at Charlotte and living with her older sister Carol, took every opportunity to visit the parents in New Bern, and of course, crew in any regatta.  Gerry was winning almost every race, and it was a thrill for Alison to be aboard yet another winning boat, this time captained by her very own mother.
The last race of the sailing season in New Bern is the race to Oriental occurring over Labor Day weekend.  One fateful day, Gerry called Alison and Carol (Alison's final semester her senior year at UNCC) and suggested they come for the holiday weekend and crew for the race.  Alison and Carol were particularly excited because they were going to have the opportunity to visit with a cousin they had not seen in years.  Greg, who graduated from the Maritime Academy, was also coming to visit and bringing with him an eligible bachelor named Dan, who happened to be a competitive sailor and several-time national champion.  The rest, shall we say, is history.
Captain and First Mate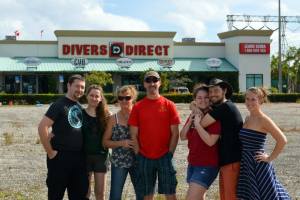 After the first meeting Labor Day Weekend, 1985, Dan and Alison were married in June of 1986. First, son Philip was born in 1987, then son Derek in 1989, and daughter Kathryn in 1990.  The family built their own little farm in Swedesboro,  NJ.  There, the boys were heavily into ice hockey and boy scouts, and the girls into horses and equestrian vaulting.  Dan also took up the sport of polo, and due to his balance, and agility, quickly excelled at that sport.  Meanwhile, sailing was on the back burner.  The children were introduced to sailing during trips to the grandparents and trips to local lakes in their Force 5.  Dan's parents ended up moving to New Bern from Valley Forge and built a house on the lot next door to Don and Gerry (Alison's parents).  The grandchildren spent almost every holiday in New Bern playing on the water and in their grandparent's sailboats. It didn't cross their minds that having grandparents that lived next door to one another, was unusual.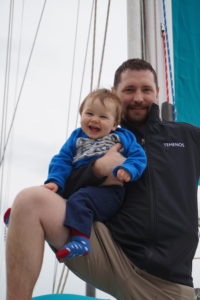 Currently, Philip is a software architect and is married to Shelby.  Shelby is busy being an inventive homemaker and works full time raising our first grandson, Orion.  They own their own home in Parksburg, Pa. Derek is a certified Rolfer and is building his business helping people through structural integration.  His website is Southjerseyrolfing.com.  He is following in his father's footsteps as Dan also became a Rolfer in his spare time. Derek's wife, Catie Gieschen, is a dental hygienist.   They were married November of 2016 and now have a second Catie Gieschen in the family.  The first Katie Gieschen, our youngest, married Sean Keville in the summer of 2013, a man she met in California while at a vaulting competition.  She will be graduating December of 2016 as an acupuncturist and is well on her way to becoming an accomplished healer. Dan and Alison feel truly blessed to have such incredible and accomplished offspring.  They and their significant others are truly a blessing.
Meanwhile, the farm in Swedesboro still houses horses, chickens, goats, and many other small animals.  Dan is winding down in his engineering job, planning for his new life at sea.  He works on a few patients with his Rolfing to keep himself updated and in practice.  His skills will be very useful as he has an amazing ability for healing pain and injuries.  Alison has retired from being a teacher and manages the farm.  She is continuing to develop her writing and blogging skills as they will be fully utilized when the couple finally makes the leap to life out at sea. Dan and Alison, after 5 years of searching, found their dream boat, a 43′ Taswell.  They will be working full force to get the farm sold.  If all goes well, their prospective date for setting sail will be June of 2017.  They will head off to Bermuda then down to the Caribbean, just to get their feet wet.