"Sea life is charged with indestructible charm.  There is no weariness, no fatigue, no worry, no responsibility, no work, no depression of spirits.  There is nothing…like this serenity, this comfort, this peace, this deep contentment to be found anywhere on land.  If I had my way I would sail on forever."  ~ Mark Twain
Mark Twain obviously got it.  Do me a favor and re read his quote…. I'm waiting.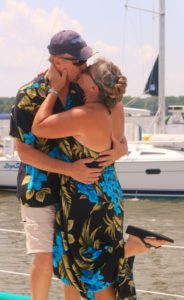 With that being said, I really don't have to write anymore, Mark Twain said it way better than I ever could.  However, I do have a story to tell, so I will continue.  It's difficult to put into words the experience we are going through, the thoughts, feelings, emotions that run through our minds.  In this day and age of progressive individuals that have firmly planted themselves in their homes striving for financial security, most people can't fathom what we are about to undertake.  Saving for retirement, building a nest egg, planning for a stable future; we are basically throwing all that out the window. It's a scary thought, but if you are lucky in the course of this crazy adventure we call life, sometimes something bigger than you takes control of your life.  Something you don't quite understand begins to drive you in a certain direction, and at that point you have two options.  Go with it and take that leap of faith, or fight it and continue with the daily grind.
It was almost surreal.  I walked to the end of my driveway and planted a FOR SALE BY OWNER sign.  This was a moment I knew would eventually come, but I could never really prepare for its reality.  Thirty years of building a home, family, farm, was all coming to an end.  Dan and I were trading a lifetime of work for an elusive dream, with no guarantees, no fail safes, and certainly no financial gains.  We are taking a leap of faith, and the sign at the end of our driveway sealed the deal.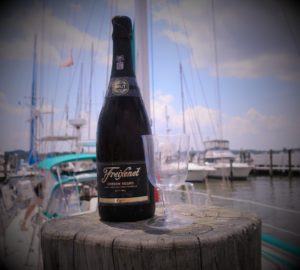 Getting our house on the market was a huge landmark in the progression of our journey.  A few other landmarks also occurred this month.  It seems that in the countdown to cruising, month 4 has proven to be quite eventful.  It began two weeks ago with our boat naming ceremony and the renewal of our wedding vows.
How many people are lucky enough to be related to the minister that married them?  We are, and that is one of the reasons I feel that our crazy scheme to sail around the world just might be fate.  Dan's father married us 30 years ago on the country club lawn in New Bern, North Carolina.  It was a disaster of a wedding.  I felt I deserved a do-over.  What better place to renew our vows than on the deck of the vessel that would carry us across oceans for the next 10 years.  In addition, we had to undergo the elaborate process of de-naming, then re-naming our boat.  Dan refused to take the chance of angering Neptune by not following protocol.  Thus our progression of ceremonies was planned.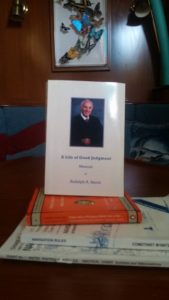 De-naming a boat requires all vestiges of the prior boat's name be removed.  Dan and I spent an entire weekend scraping off the old name, Fox Sea, off her sides and transom, and looking through the boat to find any remnants of her old name.  Every manual left by the old owners had Fox Sea written on the inside of the cover.  Every sail bag, chair bag, chart, seat cushion, had the name Fox Sea imprinted on it.  It was tortuous work, but we went through the entire boat searching to purge her for the sake of Neptune.  My job was to look through every book left behind by the old owner.  I opened each novel stacked in the various bookshelves and made sure no "Fox Sea" was written on the inside cover of the books.  As I pulled several books from the shelves in our aft cabin, I came across a book I had not seen previously.  The face that stared back at me from the cover was very familiar.  A strange feeling came over me as I read the title, "A Life of Good Judgment", the memoirs of Rudolf Sacco.  Rudolf Sacco was none other than my godfather, and a dear friend of my parents.  A judge from Massachusetts, Rudolf Sacco was a man that played an important role in the lives of my family members.  I couldn't believe that this book was sitting on our future home.  It was too surreal to even comprehend.  First of all, I had no idea my Uncle Rudy had published his memoirs.  Second of all, what was it doing on our boat?  Creepy, or one more sign that there are greater forces than we have suspected, driving us in this direction.  And while the beautiful blue butterfly sits in our saloon as a reminder that Dan's mother Elaine is watching over us, the visage of my godfather's face stared at me, reiterating the fact that we aren't as alone in this endeavor as we might believe.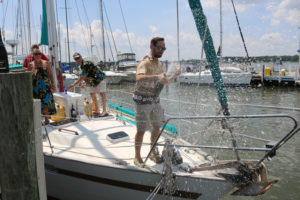 The following weekend, we invited friends and family to our cluster of ceremonies at Bowley's Marina.  Dan and Derek led the de-naming and re-naming ceremonies, complete with champagne toasts to the wind gods of each compass direction.  Wine was poured into the water to please Neptune that he might keep us safe on our upcoming voyages. A toast was made to previous owners and passengers of the boat, thanking the powers that be for their safety.  A toast was made to us and our future.  Our lovely vessel is now able to wear her new name so we can continue forward as our new entity, EQUUS. Happy birthday EQUUS!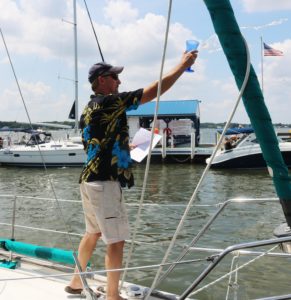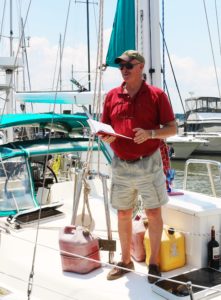 In between the de-naming and re-naming, as protocol dictates a lapse between the two ceremonies, Dave Gieschen delighted the audience with his heartfelt speech about the uniqueness of Dan's and my marriage.  Then he led a quick ceremony where we rededicated our love and commitment to one another aboard the boat that would take us around the world. It was very brief and basically reiterated our love for one another, and that our commitment to stand together in all that we face in the future, is valid and strong.  The pretty, white tea length dress I had ordered for the vow renewal showed up the day after our ceremony (of course) so Dan and I stood in matching Hawaiian shirt and dress our daughter Katie brought us as a gift from a trip to Hawaii.  Other than the dress, I was thankful for the sunshine, beautiful weather, friends and family gathered, to witness and share our special day.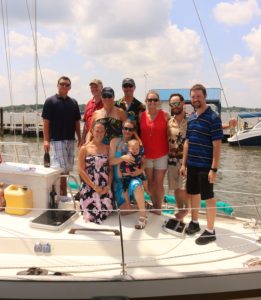 The pomp and circumstance was necessary to bind the process we have begun, and gain the support of our family and friends.  In a word, it validated our upcoming journey and made it official.  As I looked at the face of my grandbaby Orion, sitting in his stroller as part of the audience for our ceremonies, I had bitter sweet emotions coursing through me.  It is my hope that in ten years, I will have a grandson who has visited us many times in places around the world that will imprint on his memory forever.  I hope I will have a grandson who admires the adventures of his grandparents and when he talks about us, it will be with love and admiration.  I hope I will have children who look upon us as people who have followed their dreams, and who are an inspiration for their own lives.  People say we are lucky for our choice, the opportunity to become adventurers and sail around the world.  But I'm not really sure luck has anything to do with it.  It has been difficult, probably the most difficult thing we have ever done. There are many risks and sacrifices to be made.  We can only trust in the wisdom of those who have gone before and that once we cast off, the words of Mark Twain will hold true. "There is no weariness, no fatigue, no worry, no responsibility, no work, no depression of spirits.  There is nothing…like this serenity, this comfort, this peace, this deep contentment to be found anywhere on land."