Our boat is home.  Home is relative in that our boat is now at a dock in the Bowley's Quarters Marina in the Chesapeake Bay.  Equus is only an hour and a half away instead of the 8 hours when docked in New Bern, North Carolina.   We knew in advance that sailing a 43 ft boat with a 6 ft draft, up the Intra Coastal Waterway (ICW), was going to be a challenge.  We had a choice of heading out to sea along the coast, but when we arrived in New Bern to take her home, the weather reports indicated 80% chance of thunderstorms 100% of our traveling days.  We thought it best not to press our luck with our lack of experience on our new Taswell.  We also had a rather inexperienced crew. Dan's brother Mike and his wife Patty eagerly accepted our invitation to share our adventure.  However, Mike is blind, so putting him on watches would have been rather risky.
Lessons learned on this trip.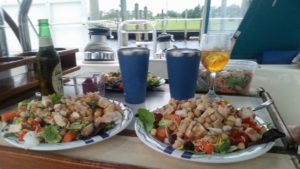 #1.  You don't need to pack 6 months of food for a 9 day trip.  Patty and I hit Costco on our way down to the boat.  We did a good job of getting a variety of food that would be easy to prepare.  Perhaps it was the additional food we each packed that pushed us over the edge.  Patty and I spent at least 2 hours finding places to store the mass quantities.  With Patty's help, we were able to develop a system for the location of each type of food.  We managed to find storage for everything.  The good news is that I feel confident stocking up for our ocean crossings and I won't have to provision for any of the trips the rest of the summer.  There is enough food left over to feed Dan and myself for days.  Needless to say, we ate well.
#2.  Fishing is not as easy as it seems.  If we are going to rely on catching fish to supplement our provisions, we are going to need to learn how to fish.  Apparently, putting a line off the back of the boat does not guarantee you will catch fish.  I tried several days, in vain.  I even spent a rainy afternoon just below Norfolk casting into the river while we were tied to a dock.  Fish were schooling and jumping all around the boat.  I almost resorted to jumping overboard and stabbing one of them with a dinner fork.  I probably would have had as much luck with the fork spearing as I did with the line casting.  I'm putting, "Learn to Fish" on my list of things to do before we leave.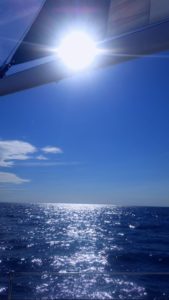 #3.  Don't trust the weathermen.  9 days of sailing with 80% chance of thunderstorms each day, one would have thought we would have heard a rumble of thunder.  We thought we heard thunder one evening, but there were no clouds, no rain.  We were anchored near proving grounds so I believe the rumble we heard were practice rockets being launched.  We had 2 days of rain during the trip.  Each was broken up with periods of sunshine poking through.  We were expecting bad weather but we were pleasantly surprised by the overwhelming number of beautiful days.  It is always good to err on the side of caution and take the advice of the weathermen, but we probably would have been fine taking the sea route.
#4.  Wind always blows from the direction you want to sail.  We have taken 2 extended trips on our boat.  We traveled from Georgia to North Carolina and North Carolina to Maryland.  I know the wind is capable of blowing from any direction, but 90% of the time we tried to put up the sails, the wind was blowing directly toward our bow.  It didn't matter in what direction we were headed, the wind seemed determined to thwart our attempts to put up the sails.  We had one afternoon where we made a last minute decision to go to the western shore of the Chesapeake for the evening.  Since it was a surprise maneuver, the winds couldn't switch directions quickly enough and we got all the sails up!  One needs to learn to be sneaky when dealing with the wind gods.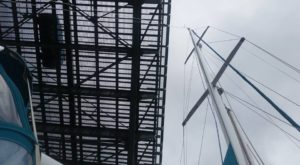 #5.  Know your draw bridge height before you get to the bridge.  We had no less than 1 lock and 5 bridges to navigate under to get into Norfolk.  Charts are not always clear on the exact names of the bridges and what mast height will safely pass under them.  It was a little hairy approaching a bridge and wondering if we were reading the clearance correctly.  As you are motoring up and looking at the bridge, it seems impossible the mast will safely fit under.  Optical illusions wreak havoc on reality.  When you hail the bridge and there is no answer, you are motoring quickly up to the moment of no return, you have to pray that you have your facts straight and you are not in fact about to make major alterations to the height of your boat.  Fortunately, even though we had our moments of uncertainty, we passed safely under or appropriately hailed the bridge to be raised.  In the future, I will do more research to avoid the stressful moments of uncertainty.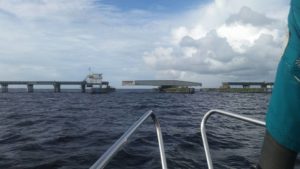 I learned many more lessons on this trip.  We became adept at anchoring but realized the necessity of an anchor wash.  When you raise an anchor that has been at rest on the floor of the Chesapeake, the mess of gooey mud that comes up with it is a force to be reckoned with.  It adheres to the anchor chain as well as the anchor and coats your nice, white deck with a thick, black, greasy mess.  Dan had fiddled with the hose and wash system that would have given us the ability to wash the anchor chain and anchor as it was being raised.  However, the pump didn't work and we were unable to use it this trip.  After every anchor, Dan had to spend about an hour washing down the decks.  New pump for the anchor wash is now on the top of our "to do" list.  Other than that, a few problems with one of our heads (thankfully we have two), the boat performed extremely well.  When it rained, we were warm and dry under our bimini system.  We had screens to keep out the bugs, solid panels to keep out the rain, and we spent most of our time hanging out in our, "living room".  We also spent quiet moments sunning or reading on deck.  I even managed to get my morning yoga routine in on a small patch of vacant portion of the stern.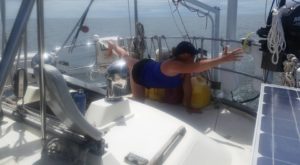 The one great thing about traveling the ICW is the sights you get to see along the way.  There are days when you are in the middle of the sound and you can't even see land.  Other times, you travel along channels that give you a spectacular view of towns, homes and a variety of other scenery.  We took delight in arriving on day 8 into the harbor of Annapolis.  We have gone twice a year for the past 5 years to boat shows there, dreaming of the day we would have our own boat.  Finally, we sailed our boat into that very harbor, with smiles on our faces, knowing our day had come.  We celebrated by going to shore for dinner and then welcoming some very special guests aboard.
Mike and Patty said farewell and Captain Orion and our son and daughter-in-law boarded to spend the night and take the final voyage with us to our home port.  It never ceases to amaze me how a baby could be so content on board a boat.  It is obvious that his sailing genes are strong and soon he will be joining us on holidays and summer vacations to sail with his adoring grandparents.  He is the constellation that lights our night sky, the twinkle in our eye and proof that our passion will be shared by our family.   As we tick one notch closer to when we are able to leave, so much runs through the mind.  Are we making the right decision, can we do this, are we crazy?  I think the answer to all those questions is yes.  It is all so near, and yet so very far away.  Lots to do still but we are getting closer.
Let the countdown continue!
*I am dedicating this countdown to Renee.  She is our biggest fan and will hopefully be the first to read this post!