The biggest adventure you can take is to live the life of your dreams. Oprah Winfrey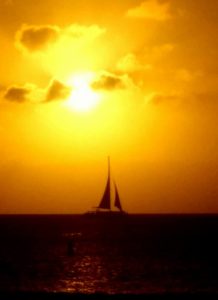 It's so close now, we can taste it. We enjoyed the holidays with our family but now that they are over, the countdown has resumed. Reality has set in that we will be leaving soon – it's only a matter of time. What does a couple do as they wait for the first day of the rest of their lives? They go do Aruba of course!
The update: our boat was pulled from the water and hung in the sling, once again denied being dry docked because of the height of the steel structure on our stern holding our radar, wind vane and solar panels. After a 40 mile voyage the day after Christmas, we were told from a second marina that no ordinary lift would be able to accommodate our boat. Good news: with a little excavation, a hole was dug in the frozen ground and Equus's keel was lowered into the hole allowing the lift to place her down and back safely away without tearing off our instruments. Bad news: we have to replace the entire system in order to be hauled out and dry docked in the future, a venture that will cost us thousands of dollars. Good news: Christmas day, a man called inquiring about the Dove. Week after Christmas, the man handed us a check for the Dove equaling the amount we need to replace our equipment. I am quite sure Dan's mom in heaven had a hand in this gift. Our guardian angel is watching over us and handed us our little Christmas miracle.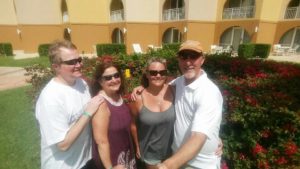 Meanwhile, our best buddies, Dan's brother and sister-in-law who helped us sail our boat up the ICW (Intracoastal Waterway) from New Bern, NC to Middle River, Maryland, kindly offered to allow us to join them for a week in Aruba. Longing for sunshine and the ocean, we gratefully accepted. Getting away from the frigid temps and exploring an unknown, gorgeous, tropical island was just what the doctor ordered. We've been working so hard getting our house on the market and preparing for our transition from land to boat, we needed a taste, a bit of a teaser, as to why we are making this lifestyle change. And if there is one common thread running through our lives, it is that our path has been predestined and that there are no coincidences. So it was no surprise this little adventure added one more teasing tidbit of how our fate is intertwined with the path we are choosing and good things await us along this journey.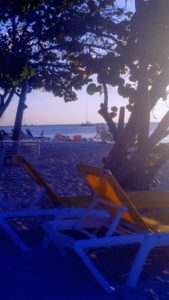 Even before we landed in Aruba and the plane circled toward the runway, we could spy from the air the turquoise water, white sandy beaches, and boats bobbing happily along the coastline. It was heaven emerging from the plane in the warm and brilliant tropical sunshine. Aruba is fondly known as, "One Happy Island" and from our first taxi driver encounter, we found she truly embraces that identity. Our driver eagerly educated us along the 6 mile journey from airport to resort about local school systems, languages, governing systems and best places to go on the island. For the duration of our 7 day stay, every person, from every occupation and walk of life, was pleasant, happy and helpful. There was no fear of crime on the island, and only 10 fatal car accidents in all of 2016. The speed limit anywhere on the island does not exceed 40 mph. All the beautiful sandy beaches are open to the public and the diversity of the island is incredible. We were amazed to learn that the children learn 4 languages by the time they graduate school but the common language is a derivative of several languages and is called Papiamento.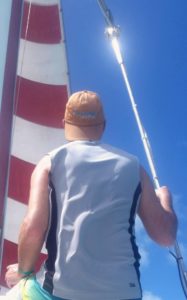 Our resort was called La Cabana. It had a pool and hot tubs, restaurants and bars, offered fun activities all day long and was a block from the beach. We took excursions to various beaches, went snorkeling, sailing and Dan took a kite boarding lesson. Of course we went scuba diving and also rented a jeep to explore the island's national park. A vast deviation from the white sand and palm trees, the park was a harshly different environment with an almost a desert appearance, with rock caves, immense cactus groves and an arid appearance. We took our jeep to the highest hills and could view almost the entire island, which is only 20 miles long and 6 miles wide.  The activities were amazing and our day usually ended with frozen drinks in the hot tub. Aruba is located along a trade wind route, keeping her daytime temperatures year round in the 80's, with an ever present, strong ocean breeze.  Her nighttime temps stay in the 70's and she is never prone to hurricanes. In essence, Aruba is paradise.
As our stay unfolded, Dan and I dreamt about the day we would return to Aruba as we sail along our route. Every time we saw a harbor with sailboats, we envisioned our Equus nestled in the tranquil, blue waters alongside the other vessels. It was for us, a refreshing taste of what is yet to come. And in the scope of how our lives will be impacted by those we meet and our adventures fuel for blogs and storybooks, it was destiny that we met a man named Jerome.
One of the planned activities we participated in at La Cabana was a rum tasting as rum is near and dear to our hearts.  Jerome and his wife Marcia own a quaint little shop on the island called The Arubian Taste. They travel to the various resorts and present their fares via tastings. Jerome is a master mixologist and uses rum and other liquors to create heavenly concoctions using ingredients such as ginger, honey, spices, berries and fruits. Presenting over 20 flavored rums and drink mixes, Jerome immediately had me hooked on the ginger flavored and aloe flavored rum. I was so taken with his products that I promised Dan and I would visit his shop. We planned on purchasing as much as we could legally carry home of our new favorite rum products. When he mentioned we needed to come back to Aruba, we said we would be returning someday on our sailboat and told him about our plans to sail around the world and of me writing about these adventures.
Jerome developed a cloudy expression on his face and with a subtle smile revealed that sailing was his dream. He had always wanted to do something similar. He also told me that he had an amazing life story he was looking for someone to write down. Much like the dichotomy of the island, sandy beaches to stark cactus filled deserts, upon visiting Jerome later in the week in his little island shop, we learned more of his diverse life's story. Infused with tribulations and triumphs, his story is weaved into the cultural climate and internal conflicts of the little island. It is a story of human perseverance, loss, love, travel and a journey to realization that happiness and paradise lie within us all. Jerome's path was not an easy one, but the beauty of his spirit and his gripping tale is one that I look forward to writing.
Before we left is shop, he pulled coins from his register. He placed them side by side in order from least to greatest. He explained that a wise man once told him that despite the belief that we are born to be a certain value, and that value cannot be changed throughout our lifetime, that notion is false. He placed all the coins in the palm of his hand and told me that all people have the ability to choose their own value. Like the coins, we hold that power in the palm of our hands. He also told me that paradise does exist, but we must find it where it lives, inside of each of us. He looked at Dan and I and told us to love each other deeply, determine our own value, and find our paradise.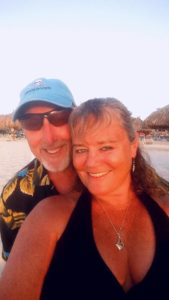 As we walked out of the little rum store in Aruba, we left with much more that our bottles of ginger, aloe and honey rum. I know that there are no coincidences in this journey we call life. What we encounter and who we meet have a purpose. We must look for clues along this path and use our experiences to enrich our lives. As an aspiring writing, I was drawn toward an incredible man with a miraculous story waiting to be told. This is just a thread pulling me in a direction I feel compelled to follow – another sign, a small taste of all the wonders that lie ahead.