(For my husband, Daniel) "You know, Hobbes, some days even my lucky rocket ship underpants don't help." ― Bill Watterson
Dan and I were on the ultimate high following the survey of FoxSea at the Brunswick, Georgia Marina. She had been gone over with a fine-toothed comb and passed with flying colors. At the end of the very long day, we returned to our friend's house in the lovely and historical town of Savannah. Amidst the gargantuan Southern style homes, giant trees weeping with Spanish moss lined the streets. Brilliantly colored flowers adorned every home and spilled out of pots on every porch. We were looking forward to a day of relaxing and sight-seeing in the beautiful South before heading back North.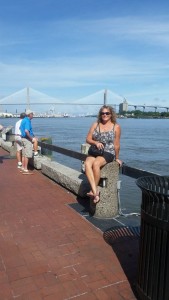 Saturday morning, we strolled through the myriad of parks that run through Savannah. Walking toward the waterfront, almost every block had its own little park with monuments to heroes from the Revolutionary and Civil Wars. We ambled along the historical pathway and arrived at the river. Nestled against the bulkhead was a gigantic brigantine sailing vessel bustling with curious tourists. For a small fee you could board her, walk amongst the towering masts, peek into the dark recesses and labyrinth of passageways. As a joke, I snapped a picture of the 80 ft. ship and posted it on Facebook, announcing, "We found our boat!" I was amazed at how many of our landlubber friends actually thought we were serious. Comments ranged from, "Wow, you are going to need a big crew!" to "Can we please come sail with you on that big boat?"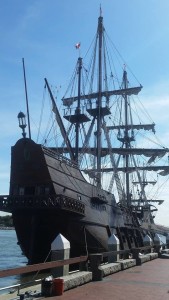 After our relaxing visit, it was time to return home. As we lifted off towards Philly and rose above the clouds, my spirit soared as well. I closed my eyes and recounted each detail of our potential new home. She was so perfect. I never imagined we would be so fortunate to find such a beautifully maintained boat in our price range. Almost everything on her had been recently renovated or upgraded. She was comfortable, safe, and sailed like a dream. I felt totally at peace picturing her as our new home. Our dreams were finally coming to fruition and I couldn't believe our luck. Little did I know, however, the next month of our lives would be fraught with disappointment and heartache.
Navy Federal Credit Union. It had been an institution we relied on for 25 years. It held our mortgage, car loans, saving accounts. They had been rock solid in helping us through all our financial needs. We had only a small sum left on our mortgage so as soon as we arrived home, I sealed a deal on my most valuable horse. His sale price was the exact amount we needed to pay off the mortgage. With some tears at handing over my best buddy to another owner, I passed the check along to Dan. I knew that once the house was paid in full, our chances of being able to secure a home equity loan and pay for the boat were greatly increased.
The next three days passed by like a whirlwind. Dan moved heaven and earth. He filled out every form, faxed every bit of documentation, and jumped through hoops to get all the required paper work to Navy Federal. We had signed the letter of intent to buy the boat and we had 30 days to secure a loan. Dan wanted to make sure we did everything in our power to expedite the process. He discussed the urgency of the situation with our loan agent who promised he would do everything in his power to speed along the process. Unfortunately, we soon learned this was empty promise. Not only was this man not good at his job, he was totally inept.
Sometimes life has a way of throwing a wrench in the works, blindsiding you when you least expect it, sending an avalanche of chaos at the most inopportune time. Mere days before our contracted date to announce our ability to secure a loan for the boat, we received a phone call from our agent. Instead of reporting the wonderful news we were hoping to hear, "You got the loan," we were informed, "We have a problem." Dan and I couldn't believe almost two weeks had passed since the appraisal was completed, our deadline was at hand, and we were just now being told there was a problem.
Incredulous doesn't begin to describe how we felt; incredulous combined with sick to our stomachs, mixed with a hint of desperation, garnished with a dash of despair. Our Navy Federal agent informed us that because we were a farm and showed income on our tax return, we were ineligible for a home equity loan. A semi-new tax law made our only option to apply for a commercial loan. However, he warned us that we didn't make enough money from the farm to even apply for a commercial loan. In a nutshell, we would not be getting any money from Navy Federal. Even though our home was paid in full, our property was worth 3 times the amount of the loan and our credit was good, we couldn't get a dime of equity. Not to mention, because of the delay in informing us of their decision, we were now out of time to look for other options.
"Harry," Dan said with a tone in his voice that conveyed his misery, "we have a small problem. Our home equity loan is not going to happen. Do you think there is any chance Bob and Vicky would extend our closing date another 30 days?"
"I'll get back to you. I'm sure it will be ok," our faithful boat broker responded. Once again we were thankful for his helpfulness and positive attitude. Before he hung up, Harry provided Dan with a list of companies that dealt with boat loans. He encouraged Dan to contact them as quickly as possible while he worked on getting us more time.
We were generously granted another 30 days from Bob and Vicky to find financing, yet wall after wall arose. Dan diligently contacted three of the companies Harry recommended. One company said our credit had to be in the 800's in order to finance a boat 25 years old. Another company would only give us 2/3 of the money because their blue book value was a fraction of what we were paying. Dan supplied the boat survey pointing out that the boat was appraised for $10,000 more than we were buying it for, but the egotistical agent wouldn't be swayed. A third company gave boat loans, but not for the amount we needed. Hearing the flushing sound of our dreams going down the toilet, we started the dreaded task of making a list of family members we might be able to ask for money. It was a short list.
Our situation seemed helpless. I couldn't understand why God would align everything so nicely for us, and then pull the rug out from under us. I thought destiny surely had a hand in helping find this boat and yet, nothing was working out the way we had hoped or planned. Now, it was the 11th hour. We felt sure Bob and Vicky would not want to extend the closing date a third time. We had wasted 2 weeks of our extended closing date getting denied.
Dan had one final card left to play. If this didn't work, we knew we were out of options. USAA is a military based lending group Dan became eligible to bank with through his service in the Naval Reserve. We had accounts with them for our insurance and car loans. We heard through Harry that they did offer boat loans and he had dealt with them a few times. Considering everyone else had already denied us, we were not very hopeful. It was our last hope so Dan began the process once again of filling out forms and faxing multitudes of paperwork.
The following week passed by with interminable slowness. Every day it seemed USAA required some new piece of documentation. Twice, we had to contact Harry and get addendums to our contract. Each time, Harry would comment, "Well, that's a new one. They never asked for that before."
All we could surmise after our recent difficulties was… this can't be a good omen. The days passed slowly, our deadline grew ever closer, a noose tightening our necks. Every night when Dan walked through the door, I prayed he would burst into the house, flowers in one hand, bottle of champagne in the other and announce our wait was finally over. Each night, I was met with disappointment.
Thursday night drew around. No word from Dan during the day. I had given up trying to call him and get updates. They were never good news. I knew when he came home the unbearable weight on both our shoulders would lead to another macabre evening. I lit our fire pit on the back deck and put a steak on the grill, trying to make some small effort to lift our spirits. Headlights shone through the dusk signaling Dan was home from work. He spied the light flickering on the deck and made his way to find me. His head hung low as he approached. No champagne or flowers were in his hands. I couldn't even utter a greeting. He walked up to me wearily and placed his head on my shoulder. I wrapped my arms around him, hugging him tightly.
"I need a drink," he said. "I need a drink… because… WE GOT THE LOAN!"
I screamed. I jumped up and down in circles. I hugged Dan, jumped some more, hugged Dan again and cried tears of joy. Our wait was over. Things did finally work out. My faith had waivered, almost failed, but in what seemed like the darkest hour, we finally prevailed. This boat was meant to be ours even though destiny made us fight like hell to get her.
Less than a week later, a day prior to our official closing date, the paperwork was completed and Daniel and Alison Gieschen became the new owners of the Taswell 43 known as FoxSea. We still have to sell our farm, but at least the first major hurdle in beginning our blue water sailing lives has been completed. November 5th, Dan and I will fly to Georgia and pick up our boat. We will sail up the East Coast to New Bern, NC where our boat will wait for us until spring when we can sail her up to Delaware. Ironically, or should I say, in alignment with how destiny has played a part in this process, the boat will be docked at the very marina where we were married almost 30 years ago. Our very first sail will include 5 days of 24 hour watches in the open ocean. Hopefully, all our experience and preparation will allow us to make that journey safely. It will be our first adventure and I'm sure there will be a steep learning curve as we learn all the ins-and-outs of our new boat. And as we wrap up the final chapter of our lives on land and begin the new chapter of life at sea, I take great comfort in our fortune of finding and securing such an amazing vessel. As we say good-bye to our farm, horses, and all that we have known for the last 30 years on land, we felt it only appropriate to take a piece of our past along with us. FoxSea shall be christened with a new name; one we feel captures the essence of our past. We shall be renaming our steed of the sea, Equus, the latin word for horse.
Here is a toast to all those who have been following our blog. Thank you for your well wishes, listening to our story, and supporting us in following our dreams. May we survive our first trip so I may recount what I hope will be just the beginning of some very exciting tales. Here is to fair winds and following seas!