"So many of our dreams at first seem impossible, then they seem improbable, and then, when we summon the will, they soon become inevitable."  Christopher Reeve.
I was scared to breathe. I was afraid that too deep a breath would wake me from my tenuous state. Impossible had moved to improbable. Improbably was quickly moving to inevitable. I could scarcely comprehend the reality of what was happening.
Our five year plan had slowly been unfurling. I began blogging to document the process of two people, leaving behind all their worldly possessions, family, friends, to embark on an ocean adventure. For five years, we went to boat shows, dreamt about our ideal boat. Our search took us from coast to coast, out to California, up to New England and all the way down to Florida. When we did find a boat in our price range, she always had some small deficiency that made her fall short of our lofty expectations. The boats that were perfect were well out of our price range. During the process, words were spoken, actions were taken, but still, the dream didn't seem real. Each time I was sure the next boat was "the one", the rug was yanked out and once again we were left to drift. At some points I thought, this is never going to happen. It seemed our plan was impossible even though we had carefully planned how we wanted to make it happen. The quote about. "The best laid plans of mice and men often go awry", haunted the outskirts of my mind.
Taswell after Taswell slipped through our grasp. Dan and I knew that this was the brand of boat we wanted. This vessel met each and every one of our specific requirements. We knew in our hearts, some Taswell was meant to be our partner in our epoch voyage across the seas. With only fifty of these boats built, each one that popped up on the market became the elusive brass ring. We reached to grab it; each time we missed. When Fox Sea appeared on Dan's ever vigilant computer program announcing her appearance on Yacht World boat sales, we once again filled our hearts with hope. Dan immediately made plans to fly to Mexico and see her before she even reached the United States. We feared as soon as she reached the U.S. she would be swept up by a sailor quicker and hungrier than us. Much to our chagrin, Dan had a serious accident requiring surgery before we could book the plane ticket. Once again we were plunged back into the dark waters of uncertainty. It seemed our dream would never unfold.
However, perseverance and will prevailed. Fate finally twisted in our direction. She guided us to make a call to the broker several weeks after Dan's accident. Fox Sea was miraculously still for sale and holed up in a small harbor on the narrow Georgia coastline. With only days to spare before another potential buyer visited her, we hastily made an appointment to see her and booked travel arrangements. In a whirlwind of multiple modes of transportation, boats, planes and automobiles, we arrived. Nervous, breathless with expectation, we began the walk down the long dock to which she was tethered. The moment I saw her, I had to pause, tears filled my eyes as I thought, how can I be in love. I haven't even stepped foot on her? I had poured over her pictures each day before the visit. I had pasted her picture on my cell phone wallpaper. I fell asleep at night in tears, terrified that some part of this plan would fail, casting us back through the revolving door of disappointment. However, the tour conducted by the couple who had loving called her home for nine years, cemented all our expectations. She was everything we thought she would be, and more. For the first time in hundreds of boat visits, Dan and I knew, she was the one. Dan held my hand as we walked back down the dock. He leaned over and whispered in my ear, "I really, really want this boat". This statement both thrilled and terrified me. I felt the same, but I knew in my heart it would take a miracle to make it happen. We had made the transition from impossible, to improbable.
We had scarcely been back in the car an hour. We had 9 more hours of driving to get back to New Jersey. Dan made the call to our broker, Harry, and announced our offer for Fox Sea. Within 30 minutes, he called back. We had fallen short of the owner's bottom line. They declined our offer. For 30 more minutes we verbalized our concerns. We hadn't even put the house on the market. We had no idea if we could get financing. The first offer we had given was well above what we had planned to spend. But still. She was perfect. We called Harry back and upped our offer by $5,000. Dan thanked Harry for his quick response and for all his help in the communication process and hung up the phone. I put my face against the car window and watched the world pass by in a blur. I was so scared, so afraid. I was terrified they would say yes, having no idea how we could afford the boat, and yet would be utterly destroyed if they said no. I felt as if my heart was going to tear apart, being pulled in so many directions. Knowing he was in his own state of consternation, I hid my tears from Dan. The wait passed by devastatingly slowly.
We drove for hours in silence. We waited in nervous anticipation for the phone to ring. Each of us lost in our thoughts, What happens if… No ringing phone shattered the silence. Was the couple debating? Were they out to dinner? I finally grabbed the phone and glanced at the screen. ONE MISSED CALL! Harry had called back within a few minutes after our counter offer. Apparently, we were not in cell range. Hastily, I punched the number to retrieve voice mail, my heart in my throat. I put the message on the speaker phone.
"Dan. This is Harry. Give me a call back."
We knew our expectations were about to be met, one way or the other. Dan redialed Harry who cheerfully answered our call. Dan immediately apologized for not returning the call sooner and explained we had been out of the range of cell service. "Congratulations!" Harry announced. "They accepted your offer."
This was the moment when things began to get real. Real scary. We had searched for so long, hopes flying high one moment then dashed the next. The giant cog wheel we were on ratcheted forward; up one notch. It clicked into place. I had no idea where we would get the momentum to keep moving forward. We hadn't expected to get this far and we had no game plan. We knew that researching boat loans was first on our, "to do" list, the moment we arrived home.
Dan and I have a ritual at home. Every morning we are able, we sit outside on our front porch and drink our morning tea. We look out across our front field at the horses grazing, smell the fresh air, watch the hummingbirds flit nervously around their feeder, and we discuss life. We often talk about how our view will change if and when we make it aboard out boat. We envision sitting in the cockpit every morning, our view being some tropical island, beach or harbor. As we sat looking over our property and all we built over the past 25 years, we discussed all our options for financing the boat before we sold the house. Reality was setting in. The home we built with our own labor, the nest we had built and raised three children in, was about to be traded for 43 feet of waterline. We both felt a little queasy. This is what we wanted, we were ready, but now we had to figure out the logistics. The best suggestion, provided by my savvy mother, was to apply for a home equity loan. She assured us it would be a better interest rate than a boat loan. We did just that. Dan had submitted the paperwork and now the waiting had begun.
In the meantime, there was lots of work to be done. We had to make another trip down to Georgia for the sea trial of Fox Sea. The sea trial, a costly venture in itself, required us to fly to Georgia, pay $500 to have the boat hauled out of the water, and another $800 to have a surveyor look over every inch of the boat. We would also take the boat out for a sail, check the engine, and raise each sail to determine if the boat was in optimal condition. Looking forward to another visit to the boat, we booked our tickets and before we knew it, were back in Georgia. It felt so strange to be plunging forward with the purchase with so many financial strings still not attached.
The Sea Trial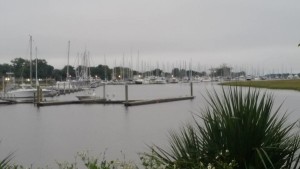 The whole boat survey process was new to Dan and I. We had inherited the Dove and hadn't gone through the normal purchase routine. Not knowing what to expect, we woke up at 6:00 AM and were a full 30 minutes early for our 8:00 AM appointment at the dock. The boat yard was empty, not a soul to be seen wandering the pier or docks adjacent to the marina where Fox Sea was tied to her slip. Our appointment that morning was to include our boat broker Harry Schell, our surveyor, Gary Frankovich and the boat owners Vicky and Bob. Vicky and Bob would motor the boat over to the side of the marina where we waited, the morning air chilly, grey, and misty. Fox Sea would be hauled out of the water to have her underside inspected.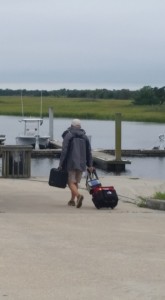 First to arrive on the scene was our surveyor Gary. We introduced ourselves and Gary made his way down to the edge of the water to wait for the boat to arrive. His large, red tool kit was in hand. He appeared eager to begin what would turn out to be 9 hours of intense examination. Soon after, our jovial boat broker Harry arrived. We had spent many hours on the phone with Harry but this was our first meeting. With a giant smile and hearty handshake, Harry announced his job for the day: to make everyone happy. I instantly liked the man. As we chatted and made small talk, a purr of a distant motor drifted across the quiet water. We all turned in unison and watch the approach of Fox Sea. Her quiet demeanor and sleek lines embodied her name as she crept stealthily toward the pier. I couldn't help but feel the emotion in the air. I knew the owners must be heartbroken, sending their sea child off to be owned by another family.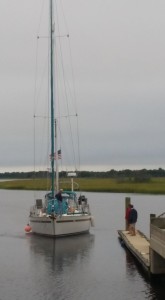 Meanwhile, Dan and I could barely contain ourselves, and threatened at any moment to be overcome with emotion. The years of waiting for this moment, the moment our home drifted toward us, met and exceeded all our expectations. I couldn't stand or be near Dan as the threat was too great that I might make eye contact with him and start crying like a baby. I swallowed the lump in my throat and turned away from the others to chase the tears away before anyone noticed my eyes welling up.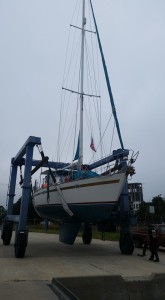 I was correct. Vicky and Bob were a mess. They admitted as soon as we wrested the boat and tied her to the boat ramp, that their difficulty backing her in was due to the fact they were both a wreck. They had spent the morning crying in their coffee over the impending loss of their partner; one that had kept them safe, housed them and sailed them to reach their dreams. Within a few minutes, the expert team at the marina had cradled Fox Sea in a giant sling and pulled her dripping her own tears, high in the air above us. Her blue bottom was in excellent condition.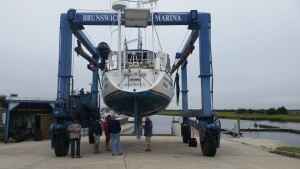 The moment she was backed away from the water and safely suspended, Gary went to work. He methodically tapped every inch of her underside with a large mallet, looking for any signs of structural weakness. Other than replacing the pair of zinc plates on each side of her keel, the bottom was in impeccable condition. The purpose of the zinc plates is to prevent corrosion of the metal such as the propeller and metal shafts. The zinc deteriorates and provided a protective sheath around the metal preventing the corrosion. They need to be replaced periodically. Since they were nearing the end of their lives, it seemed efficient to replace them while Fox Sea was already out of the water.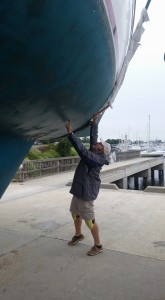 The process was completed and Fox Sea was lowered back into the river. We all climbed aboard for the next phase of the process. A quick motor and we were back at her slip. Gary began the intense procedure of checking every system, every corner, every piece of electronic and safety equipment, that lie aboard the vessel. For hours, we puttered around. I tried to stay out of the way, and let the man do his job while Dan followed Gary around like a lost puppy learning all he could about the boat. Quiet side conversations took place between the men, the wise and experienced past owner and the new and curious future owner. I probed Vicki for every piece of vital information I felt she could share with me. The conversations ranged from how to socialize and make friends at sea, to having her share her most valuable boat items and favorite cooking methods. Vicki assured me that the blue water sailing lifestyle was anything but solitary. She and her husband had made more and dearer friends during their 9 years sailing than they ever had on land. While we were at the marina, several sailing couples popped by to great Vicky and Bob. They were thrilled and excited for Dan and I but sad to see their friends cast off. Even though this marina was small, and a spur of the moment stopping place for Bob and Vicky, it was filled with people they had met and befriended from their sailing adventures. They assured us, the sailing world was a very small place and we would never be without friends.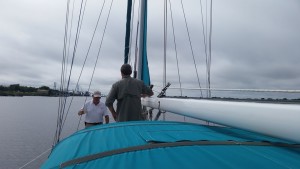 True to his promise, Harry kept the mood upbeat and fed us lunch. A few more hours passed as Gary continued methodically down his check list. Finally it was time to take Fox Sea out for her engine check and to raise the sails. Bob, a retired Air Force pilot, had kept all the equipment on the boat in impeccable condition. The turbocharged engine purred to life, the generator chugged away as quiet as a kitten, and Fox Sea ran through her paces like a champ. The canal we had motored out to and ran the tests on, was rather narrow and would not afford us the opportunity for a good sail. We raised the jib, and then the main sail, and Gary evaluated each sail and all of its components. We took them back down and satisfied once again, we headed back to the marina slip for the final countdown. It had been a long and exhausting day for everyone.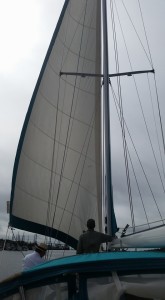 The ninth hour arrived when Gary finished the last item on his check list. We were all amazed at his professionalism and thoroughness. Afterward,  the magnitude of the change in our lives hung thick in the air like a dense fog as we ended the day with a traditional "Captain's Hour" beer. Vicky and Bob had no home as they had sold theirs to buy the boat. They would be buying a car, taking with them only what would fit in the trunk, and planned on visiting a few friends and family. Their next adventure would take them to the South Pacific where they would sail with friends they had made along their journey. Dan and I were still entrapped in the pending home equity loan, praying that all of our time, money and efforts would be financed. We both felt as if we had walked to the end of a plank, our hands tied behind our back, weights bound to our feet, and if the loan didn't come through, we would both be ready to jump. Our dreams, our perfect boat, all that we had planned for our future was sitting before us, yet tethered beyond our reach.
As Gary gave his final seal of approval, he extended his hand to Dan. "I would sail this boat anywhere in the world, tomorrow. In fact," he said with a smile, "do you think I could go with you two?" We both could see the genuine envy this boat expert had for this amazing vessel and for the prospect of sailing it to every continent in the world. It's a dream many people have, but few ever complete, even those whose lives revolve around the sailing world. Bob began to tear up as he voiced his regret for never having crossed an ocean in Fox Sea. Their choice had to been to sail in the relatively safe waters of the Caribbean and around Mexico. Now that Fox Sea was being passed on and he was getting on in years, Bob regretted not having crossed an ocean in her.
"Please," I said. "If you ever want to make a crossing with us, please come join us. We would love to have you sail with us."
We all hugged and said our good-byes with tears of happiness, tears of sadness, tears of regret and tears of joy at dreams coming alive. The passing of such a legacy, such an amazing vessel was a poignant moment on many levels.   Still, the impending reality for Dan and I involved the possible loss of all that we had just experienced. We needed that loan. God help us that it please goes through. I was scared to breathe. I was afraid that too deep a breath would wake me from my tenuous state. Impossible had moved to improbable. We had just paid our last mortgage payment and had close to half a million dollars in equity in our home. An equity loan was a no brainer. Improbably was quickly moving to inevitable. I could scarcely comprehend the reality of what was happening.